Seaview Harbor Marina
, is easy to find, lying just seven short miles away from all that Atlantic City, New Jersey, has to offer.  It is easily accessed just west of the Longport Bridge on Longport-Somers Point Boulevard (State Highway 152) in Longport, Egg Harbor Township, New Jersey. Boaters will surely find, however, that this picturesque location is special for two outstanding reasons- fast and easy access to the Atlantic Ocean without any bridges to get in the way; as well as ready and quick access to all the exciting casino marinas that make Atlantic City the go-to destination!
Seaview Harbor Marina is situated only minutes from "America's Family Resort," in friendly Ocean City, New Jersey. It's just minutes from 5 Star country clubs, high quality tennis facilities, fine dining restaurants, the Atlantic City Outlets shopping district, the Atlantic City Casinos, the Atlantic City Airport and much more! Click to find out more…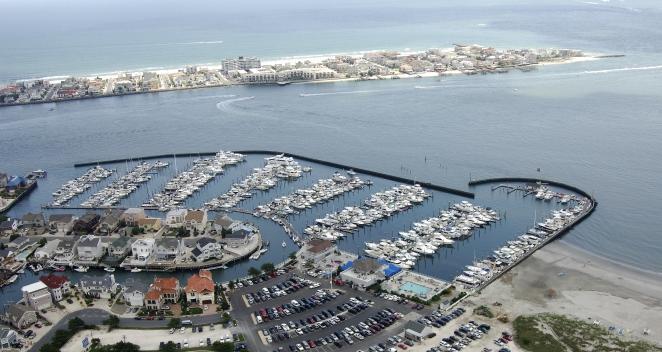 Seaview Harbor
will exceed any boater or yachtsman's desires. No matter if you are interested in buying, renting, or if your just visiting our facilities, Seaview Harbor has the slip to launch your boat or yacht whether it is small or large from 20 to 125 feet. Availability of our slips is rapidly becoming limited so act now while availabilities last and experience what our unique lifestyle offers.
Seaview Harbor Marina was expertly designed to guarantee that the most exclusive boat enthusiasts in the world would have a safe and modern slip for their boats.  While in the coastal market the number of boats is growing, unfortunately the number of slips available is declining. This emphasizes the fact that Seaview Harbor slips will quickly increase in value, providing an even greater incentive to join those boaters who have already come "on board"! It's more than just a slip, it is an investment.
"We first found Seaview Harbor Marina as transients and then became slip owners…and our family continues to enjoy every moment we spend there…from our fellow boaters and friends to the incredible staff and management…it is our oasis for relaxation and fun…the marina is maintained meticulously…and I have been at many marinas on the east coast and Seaview Harbor Marina is by far…the best…in every way…friendly family atmosphere…our beach…fishing…the docks…parking facility…fuel dock…security…proximity to the inlet.. water depth maintenance with our own dredge…Ocean City boardwalk…great restaurant on site…
The experience and professionalism of Seaview's Management creates an incredibly relaxing boating environment that exceeds all expectations…."
"Seaview Harbor Marina has been a great part of my family's life for several years now. The boating and friendships We have experienced will always be one of the greatest gifts we have given our children."
"Seaview has been my family's summer home for over 10 years. The facility and amenities are second to none, and provide a safe modern dock for our boat. The location gives quick access to the ocean without any bridges, while maintaining great protection in the harbor. The facility speaks for itself but it is the great people that make Seaview our home."
Seaview Harbor Marina's Regular Scheduled Board Meeting will be held on Saturday 5/12/18 @10:00 a.m. in the Marina's Clubhouse.
All Marina Members are Invited to Attend!
Seaview Harbor Marina's Spring Office Hours: Tuesday-Saturday 8:30-4:30 Sun. 10-3 Mon. 10-3
Please Call the Marina office (609) 823-2626
Offering Summer Season 2018 Rentals Slips from 31′ up to 100′
Slips for Sale!
Book your Transient Reservations now! (609) […]
Seaview Harbor Marina's Office
will be Closed!
SUNDAY APRIL 1st, 2018
HAPPY EASTER!